A'Mhaighdean, Ruadh Stac Mor & Beinn Tarsuinn; map 19
26th June 2004 & 2nd April 2008
Route: 24.2 miles; 1590m=5215' ascent; 12–13 hrs
---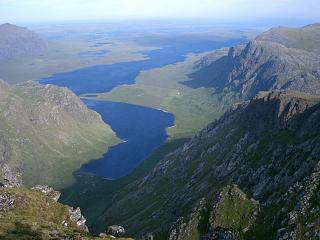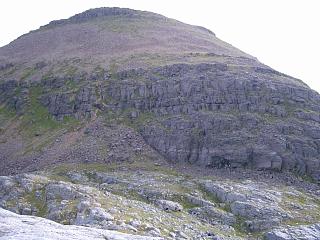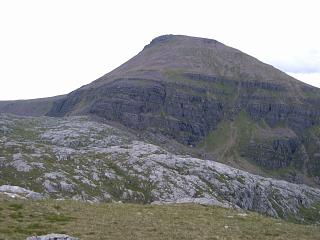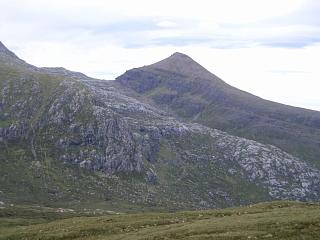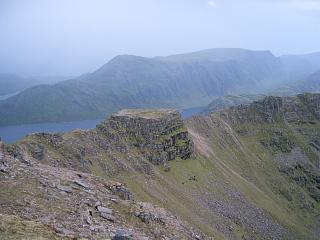 Route: For this route these rather remote Munros require the rather long walk-in of 7 miles each way from Kinlochewe to Loch Fada. By contrast, the Fisherfield 6 from Corrie Hallie via Shenavall is 27¼ miles and requires 2935m ascent. I prefer to do these Munros over two days, rather than carry stuff for staying overnight at Shenavall. This splits the ascent into two fairly even, reasonable halves, but adds a few miles. The rest of the Fisherfield 6 are described here. The total ascent for the Fisherfield 6 is about the same with this split if the re-classified Corbett Beinn a' Chladheimh is omitted.
Terrain: There is no path along NE shore of Loch Fada, but instead time-consuming peat bogs everywhere below 600m. Good path from main top of A'Mhaighdean to Ruadh Stac Mor, with good cairns marking each end of the ascent through the crags of Ruadh Stac Mor. (Note that from the bealach another path bends round and down to Fuar Loch Mor, but the path to Ruadh Stac Mor carries straight on.) The west ridge of Beinn Tarsuinn is narrow with pinnacles, but straightforward scrambling. The descent from Beinn Tarsuinn is straightforward but rocky down to 700m, then peat bogs and a deep ravine for the main burn S down from Bealach Odhar. Follow the path on the E side of this ravine.
Weather 26/6/04: Gusty winds; sunny till 11.30 then continuous rain with a thunderstorm.
Weather 2/4/08: Heavy wet snow above 600m, but dry, sunny intervals & light wind.
26/6/04
2/4/08
Description
Ht.
Asc.
Distance
Grid Ref.
Mob.
0315
0630
From A832 at E end of Kinlochewe follow sign to
Incheril, and park at end of road (a large car park)
40
0
0.0 miles
NH0377562395
Orange
0405
0720
Take track E/NE to fork at Heights of Kinlochewe
85
45
2.6 miles
NH0721264186
0420
0735
Left fork in track then N to bridge
145
105
3.4 miles
NH0740965335
0440
0755-
0800
N to track end at path split
260
220
4.3 miles
NH0702766691
0505
0825
Left path NW to start of first lochan
320
280
5.4 miles
NH06276835
0530
0855
Sandbank at E end of Loch Fada
320
290
6.85 miles
NH05046992
1010
NW above loch to rocky outcrop at Meallan a' Chruidh
(There's no obvious path by the loch shore.)
500
470
8.8 miles
NH02917228
1045
Contour NW round to Pollan na Muice
525
505
9.75 miles
NH02007335
0810
1200-
1205
Ascend ridge NW to M A'Mhaighdean, S top
967
950
10.9 miles
NH0077574913
Orange
NE to col
935
11.0 miles
NH00927501
0820
1215
N to A'Mhaighdean, N top
948
960
11.17 miles
NH0096675264
0845
1240
Descend SE/E/NE to bealach
750
11.6 miles
NH0164375435
0900
1305
-1310
Follow winding path NNE up through crags,
then E to M Ruadh Stac Mor
918
1130
11.9 miles
NH0185275662
Orange
0930
1325
Return W/SSW down crags to bealach
745
12.15 miles
NH0164375435
1010
1420
Contour S at 750m to Stac a'Chaorruinn then
descend S/SE back to Pollan na Muice
525
13.35 miles
NH01707440
NH0211473529
1515
Ascend E/ENE to NW ridge of B.Tarsuinn
800
1405
14.1 miles
NH03347335
1130
1555
-1600
Scramble S/SE/E over pinnacles to M Beinn Tarsuinn
937
1570
15.0 miles
NH0396172792
No Orange
ESE to Bealach Odhar
730
15.45 miles
NH04637258
—
Optional: Detour to Meall Garbh
851
1690
15.65 miles
NH04957263
1300
1710
Due S on E side of burn down to sandbank at
E end of L. Fada
320
17.3 miles
NH05046992
1330
1745
Return SE along path to S end of first lochan
320
1710
18.75 miles
NH06276835
1750
SSE to deer fence (start of excellent path)
310
18.9 miles
NH0630868081
1400
1810
Path SSE to track end (at path split)
260
19.87 miles
NH0702766691
1415
1830
Track S to bridge
145
20.8 miles
NH0740965335
1845
S to track intersection at Heights of Kinlochewe
85
21.55 miles
NH0721264186
1530
1930
Track SW to car park at Incheril
40
1710
24.2 miles
NH0377562395
Orange
---